COLUMBUS, OH – November 19, 2009 – (RealEstateRama) — Record breaking foreclosure filings and delinquency rates in Ohio were reported today by the Mortgage Bankers Association, confirming assertions by foreclosure reform advocates that the housing crisis is deepening, and prompting calls for the Ohio Senate to begin hearings on reform legislation.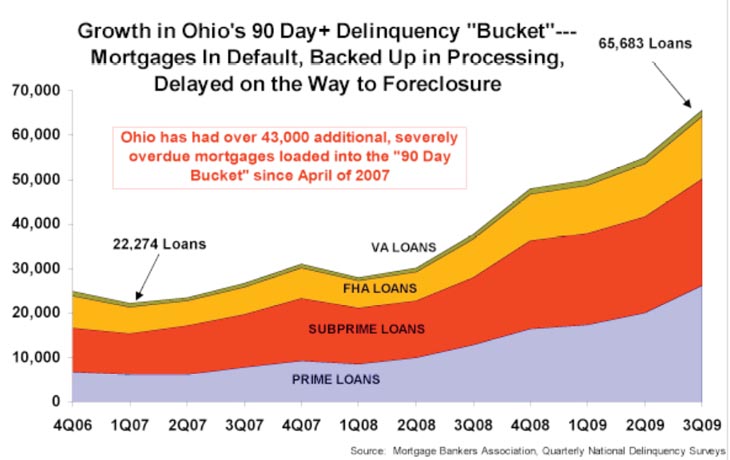 According to the data, of the 1.478 million loans serviced in Ohio, 15.3 percent, or 226,140 are either in foreclosure or past due in their payments. That is up from 13% from the first quarter and 14.3% from the second quarter. This means that as of the end of September, one in every 6.5 Ohio homeowners with a mortgage are at least 30 days late in their payments or already in foreclosure.
"Our foreclosure crisis is not easing, it's growing. The Ohio Senate needs to take up foreclosure reform immediately," said Bill Faith, executive director of the Coalition on Homelessness and Housing in Ohio (COHHIO). "HB 3 has been sitting idle in the Senate for six months. During that time more than 45,000 homeowners have lost their homes. How many more homes do we have to lose before we act?"
Among other things, House Bill 3 gives servicers the incentives to process reasonable work-outs on a meaningful scale and creates a fee on foreclosure filings to support foreclosure prevention counseling to help reduce the volume of foreclosures going through the courts.
In addition, new foreclosure reform bills are circulating both chambers, although none have yet been heard in the Senate. HB 306 and SB 197 are companion bills that call for foreclosure mediation in the courts. Companion bills SB 188 and HB 313 tend to landbank legislation that would help return vacant and abandoned properties to productive use in all of Ohio's urban counties. HB 323 is designed to make banks take responsibility of properties after default judgments have been imposed – and to stop lenders from simply walking away from foreclosed properties.
The MBA data cited unemployment as the main driver of increased delinquency and foreclosure rates. "Clearly, unemployment is a critical factor," said Faith, "but risky loans and borrowers owing more than their home is worth are also major contributors to our foreclosure crisis. Beefing up our foreclosure prevention efforts can't wait. We need to chip away at this problem from all angles. A comprehensive approach, taking the best of all of the various bills, will be required to make progress in Ohio."
New foreclosure filings tell only part of the story, according to Paul Bellamy, director of the Cuyahoga County Foreclosure Prevention Project. "While foreclosure starts remain relatively constant at one percent of all Ohio loans, the number of those held in the 90+ day 'bucket' has soared to 65,683 loans," said Bellamy. "Focusing on foreclosure filings alone is misleading people into thinking we may have topped out on the mortgage disaster."
Contact: Suzanne Gravette Acker, 614-280-1984
Bill Faith, 614-579-6108